[ Omigod, the setbacks that PETRA'S PECADO ("Petra's Sin") has encountered since the Cara Mia Theatre first tried to stage this Rupert Reyes-scripted comedy late last year. First, there were problems with securing their venues, and then their lead actress fell ill and could not be immediately replaced--the director tried to yank me into it, but my schedule would not allow, sorry Rodney. The shows were cancelled and the whole production was put on hold until just now. Still more casting dilemmas arose, but lo & behold, the magical miracle of all miracles has seen to it that the SHOW WILL--FINALLY--GO ON!! If anybody deserves a "courageous stamina in the face of adversity award", it would be Rodney Garza & the whole Cara Mia Theatre gang. Y'all break a leg on Thursday! ]
Cara Mia Theatre
presents
the Dallas premiere of
the original Spanglish comedy
by Rupert Reyes
PETRA'S PECADO
(highly recommended ! )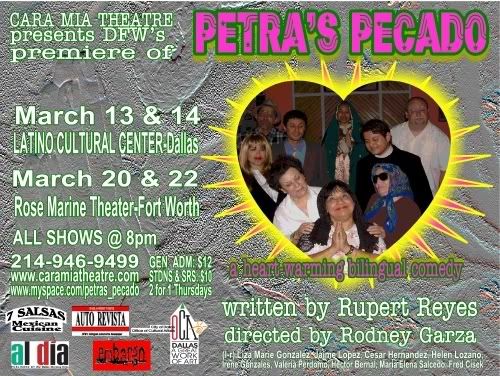 PETRA'S PECADO (Petra's Sin), is a unique script that beautifully blends language so that it is enjoyed by English- and Spanish-speaking audiences alike. PETRA'S PECADO is a hilarious comedy that has touched people's hearts by reminding us of life's everyday miracles.
For this revamped production, Guest Director Rodney Garza ("El Chuco y La Che" & "Martin"), has assembled a mini-reunion of the world premiere cast of PETRA'S PECADO. He brings award-winning actress Irene Gonzales from Austin, who played the original Petra Dominguez in the first sold-out runs in San Antonio and Austin. Ms. Gonzales was nominated for an Austin Critic's Circle Award for her portrayal of Petra. Also joining this Dallas cast is Maria Elena Salcedo ("Las Nuevas Tamaleras") from San Antonio. Ms. Salcedo will be reprising her role as Clara Ramirez, Petra's co-worker and feisty friend.
Garza, Gonzales, and Salcedo have worked together on various productions, including the world premiere of "Petra's Cuento", the second installment of Reyes' Petra's Trilogy. Garza is elated that the schedules worked out. Says Garza, "Everytime I work with these ladies I feel like the luckiest director. They're so natural in their roles that they make my job easier. The DFW area is in for a treat."
Cara Mia Theatre also introduces some new talent to the DFW theatre community. The role of Lupita Montana will be shared on alternating weekends by Valeria Perdomo and Eleonor Hernandez. Also new to the cast of PETRA'S PECADO is Helen Lozano, who will be portraying the role of Petra's cranky friend Tacha Alvarez. All three actors have taken on their parts with refreshing enthusiasm and zeal.
Returning cast members from the production that was supposed to run last winter include: Liza Marie Gonzalez as the conniving business rival Tina Tamayo; Cesar Hernandez as the high school drama teacher Rudy Diaz; Hector Bernal as the new priest in town Father Johnson; Jaime Lopez in the role of the cantankerous Chano Orozco; and Fred Cizek playing the role of Petra's unwitting husband Rafael Dominguez.
When: March 13, 14
Where: Latino Cultural Center
2600 Live Oak St., Dallas
When: March 20 & 22
Where: Rose Marine Theater
1440 N. Main St., Fort Worth
**All Shows at 8 PM**
Ticket prices: Adults-$12 Students & Seniors-$10
Special Discount: 2 for 1 Thursdays
Buy tickets online for $2 off.
For more information contact: 214-946-9499 or www.caramiatheatre.com